After all the planning, postponing, paperwork, and Covid testing, we finally arrived at the Papeete airport to the sound of four musicians and the mixed floral scents of the evening combining to smell like cotton candy. We wound our way through passport check and another Covid swab as the musicians played on. Then out into night air of 75 degrees and smiling taxi drivers voluntarily directing us to our shuttle to Fare Suisse.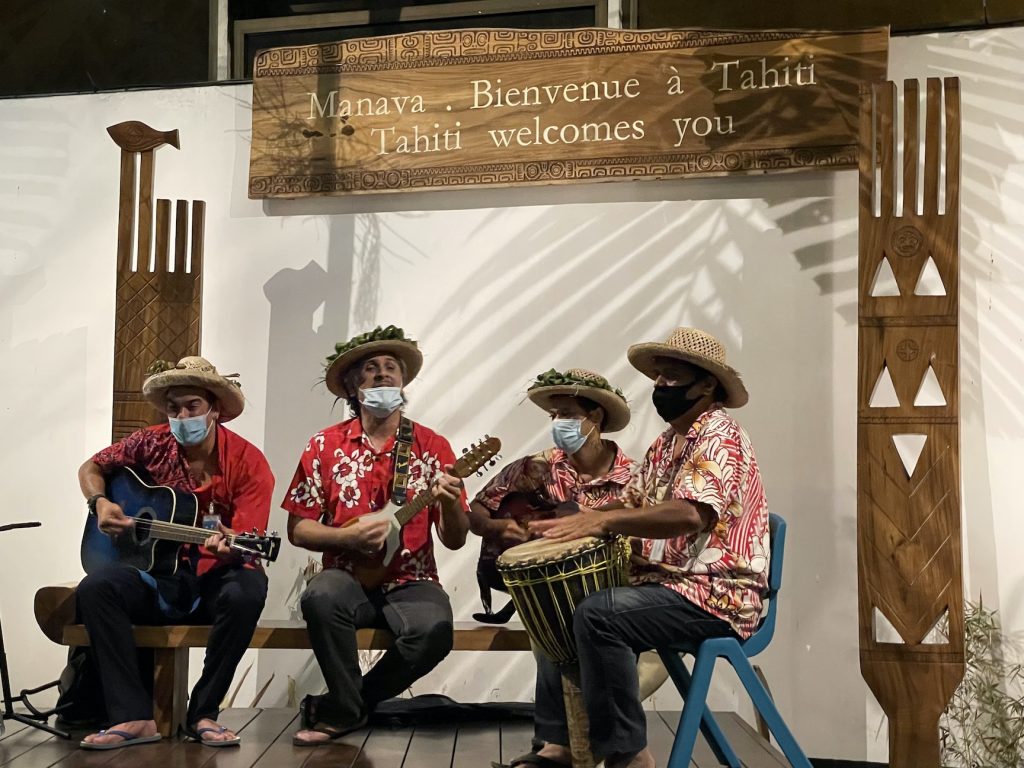 PPT: Best.Airport.Ever.

4am and the roosters start crowing. They were walking around the hotel grounds, the neighborhood , the downtown streets, chickens laying eggs in the landscaping… They are called red junglefowl and are on all the islands.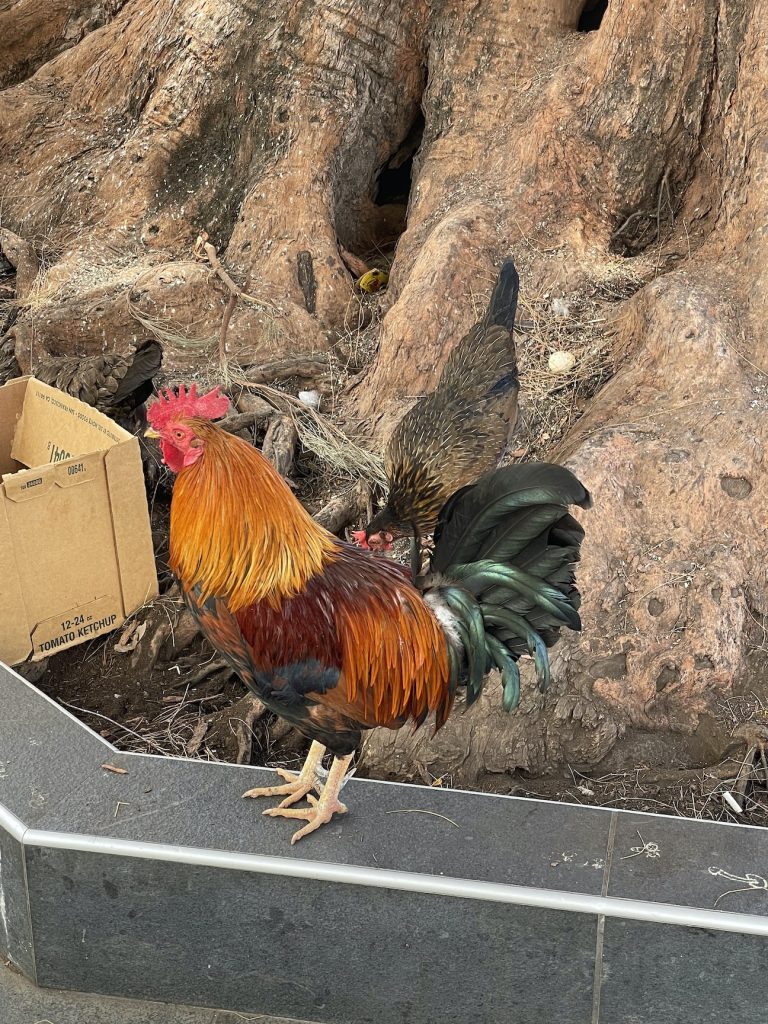 We bought SIM cards, visited the market to admire the food, fruits, fish, pearls, clothing and crafts. Passed the ferry and cruise ship docks, lunched on poke bowls at the Urban Cafe, then after a toes-up at the hotel, we headed out in another direction for the park along the sea. Bandaged blisters, changed shoes, and out to a delicious seafood and taro risotto dinner at MaruMaru. Papeete is the administrative center for the islands and a pleasant city.

November 11 Our hotel keeper shuttled us to the Aremiti ferry for the crossing to Moorea. Clear skies with clouds hovering over the oddly shaped volcanic peaks. Next stop Moorea Beach Lodge — palm trees hanging over turquoise water, thatched roof bungalows at water's edge. We walked past a psychotherapist office on our way to lunch at Le No Stress bistro. The patients should go there instead. Tuna tartare with green papaya (looked like raw onion, surprise!) Fresh cod with pumpkin… yum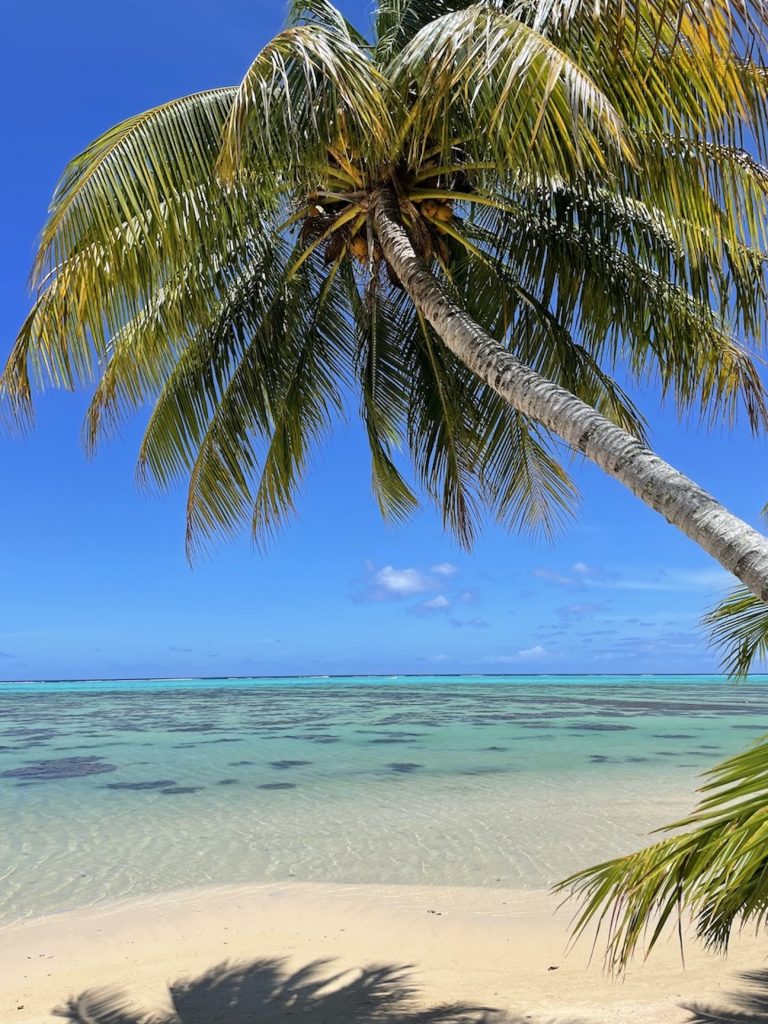 Day 3 in Polynesia — I am disoriented where it looks like the tropics, but sounds like France with a few words of Tahitian: "Ia orana" in greeting, "mauruuru" for thank you. And the outgoing friendliness of being greeted by strangers with eye contact and a smile. Most of the other guests seem to be French speaking. A ray swam by as we were having breakfast on the communal terrace. We went out to snorkel but found few fish in the shallows of the coral outcrops. Tony has been researching the numerous causes of coral death on Moorea. Out of our swimsuits and back on our terrace we can see great schools of fish passing. Hmmm…

Lunch of poisson cru at Fare Club on a terrace built over the water. Lots of fish at the edge and more swarming in as someone tossed a piece of bread into the water. The cafe overlooked the idyllic Intercontinental hotel bungalows, closed during the pandemic, then permanently, near the site where Club Med burned and was abandoned.

Walking back we were intrigued by all the holes beside the road. Tony speculated that they were land crabs, then confirmed it by spotting crabs darting into the holes. The special of the day at the very next restaurant we passed was "crabe de cocotiers". Very local! Later we learned they were not the same crab, just a coincidence. The land crabs are not edible; the others are delicious.

Downsides of paradise? Roosters, and burning rubbish. There are flowers everywhere — gardenias, frangipani, and hibiscus to tuck behind an ear, lantana naturalizes like weeds, overwhelmed by the odor of bonfires of brush and trash. Pew.

Saturday already. Reception never opened at the Moorea Beach so we left without paying for breakfasts. Taxied to the airport for our flight to BoraBora. Air Tahiti looked at our passports and vaccine cards and handed over boarding passes. Easy peasy. At the BoraBora airport, we picked our luggage off a cart and wheeled it onto the shuttle boat to the mainland.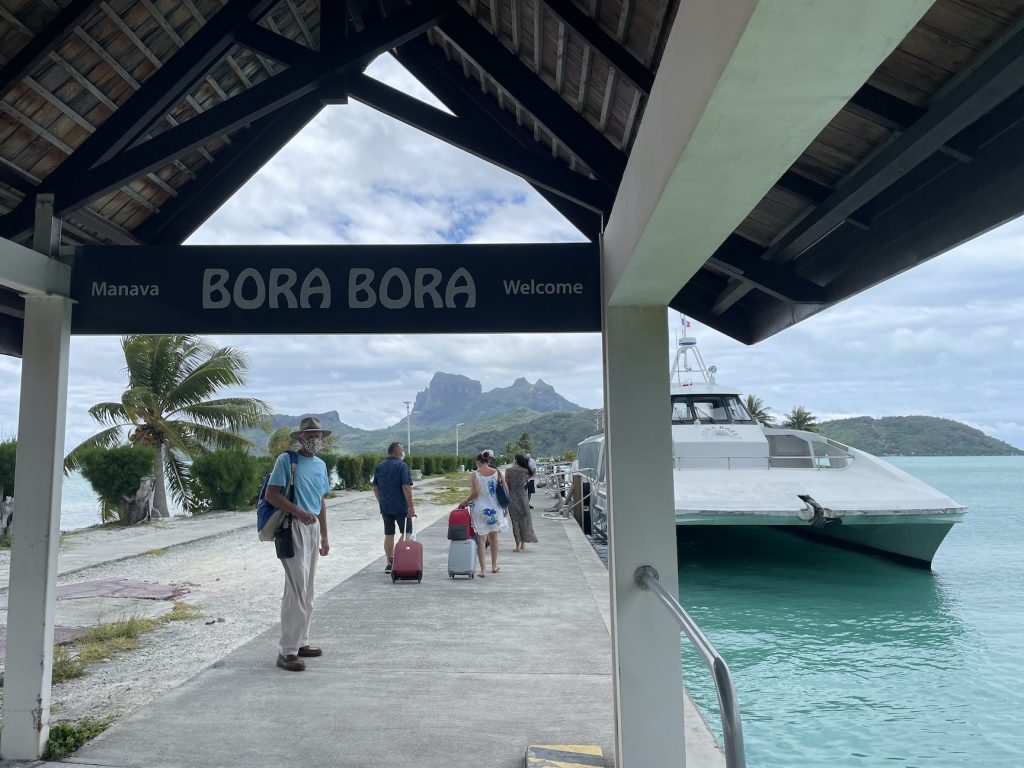 Our guesthouse owners are Nir and Tiare. Tiare met us at the boat and stopped at the grocery store for us and again at a fruit stand so we could eat in our bungalow because rain was expected. Correctly. We are installed in our room overlooking the tropical garden with the lagoon beyond. This is our tropical bathroom. The shower comes out of the statues hands.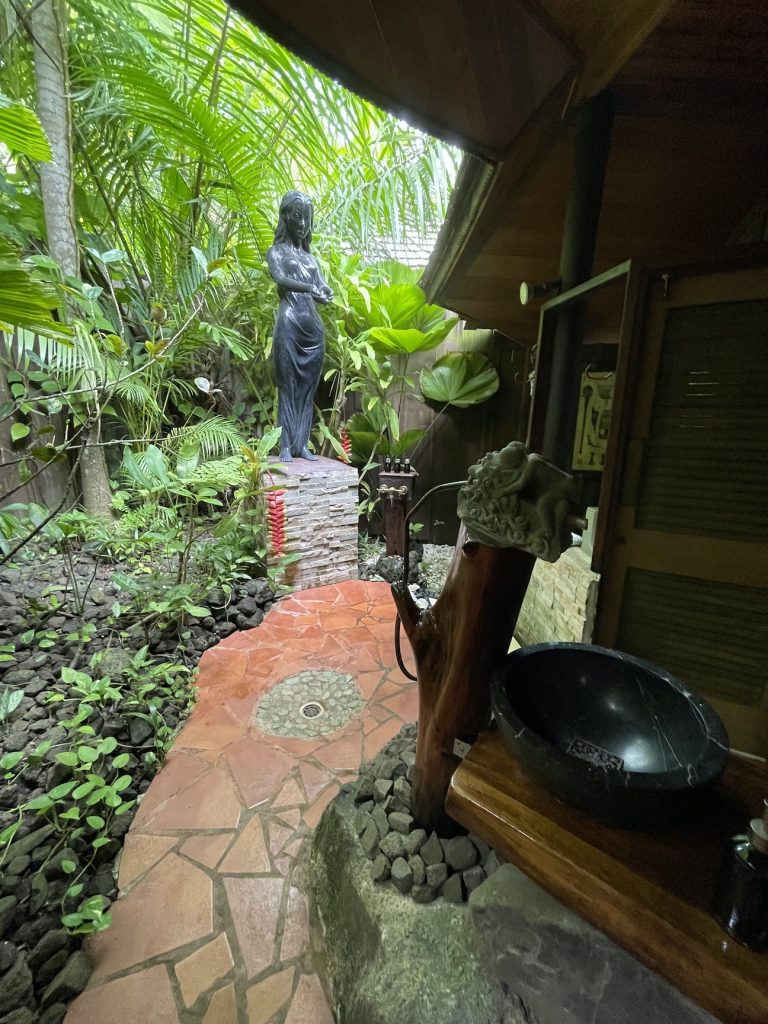 We have been staying close to home during a monsoon!

We have been to the hardware store and back to the grocery store to see if the boat had arrived with eggs. We snagged the only carton left — 20 eggs, 3 of them broken, shrug. Dinner at BoraBora Beach Club.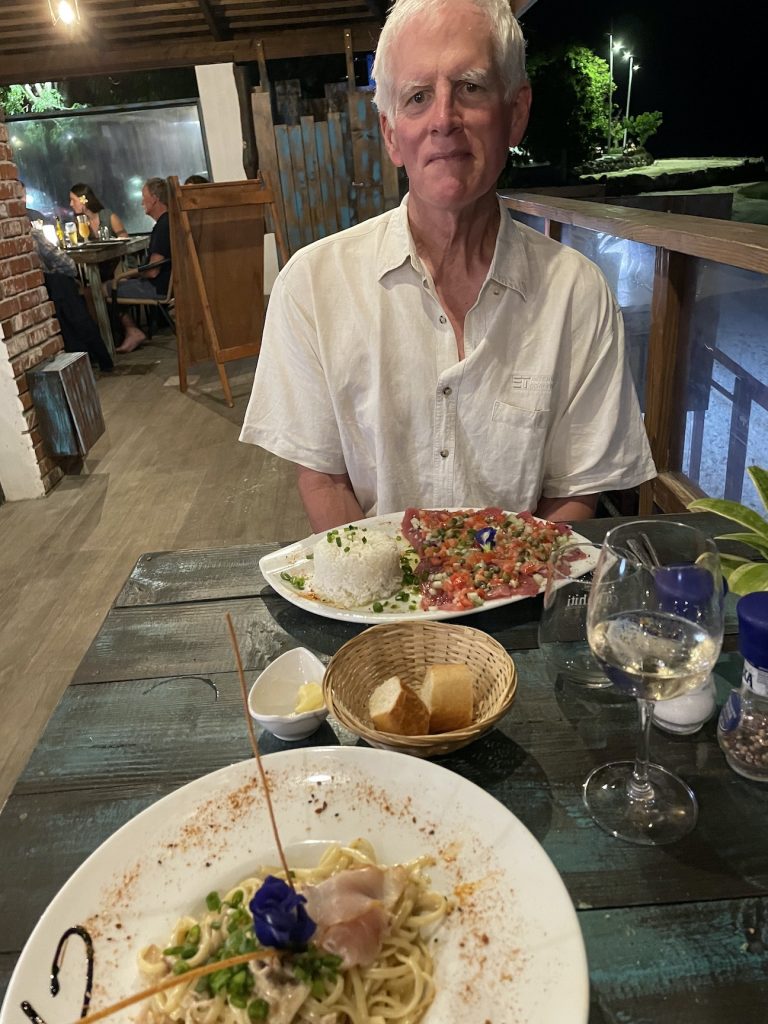 Snorkeling at Matira Beach today. Walks around the point. We put off the Lagoonarium to avoid the mobs of cruisers on Tuesday, but Windstar has not arrived, presumably cancelled due to lack of passengers. We saw a Renault Twizy electric car which looks like the perfect vehicle for life on a small island.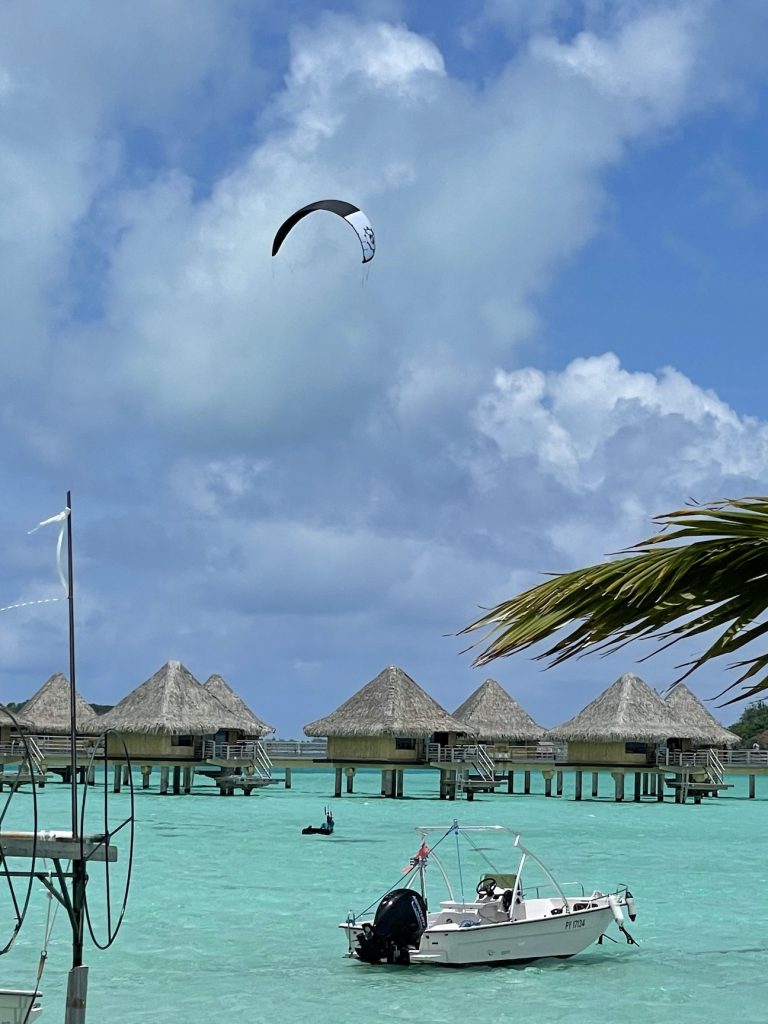 Nir has a carved turtle from a bankrupt hotel that needs refinishing. Tony offered advice but perhaps we will come back to do the work (that is, we would come back, Tony would work) TBD.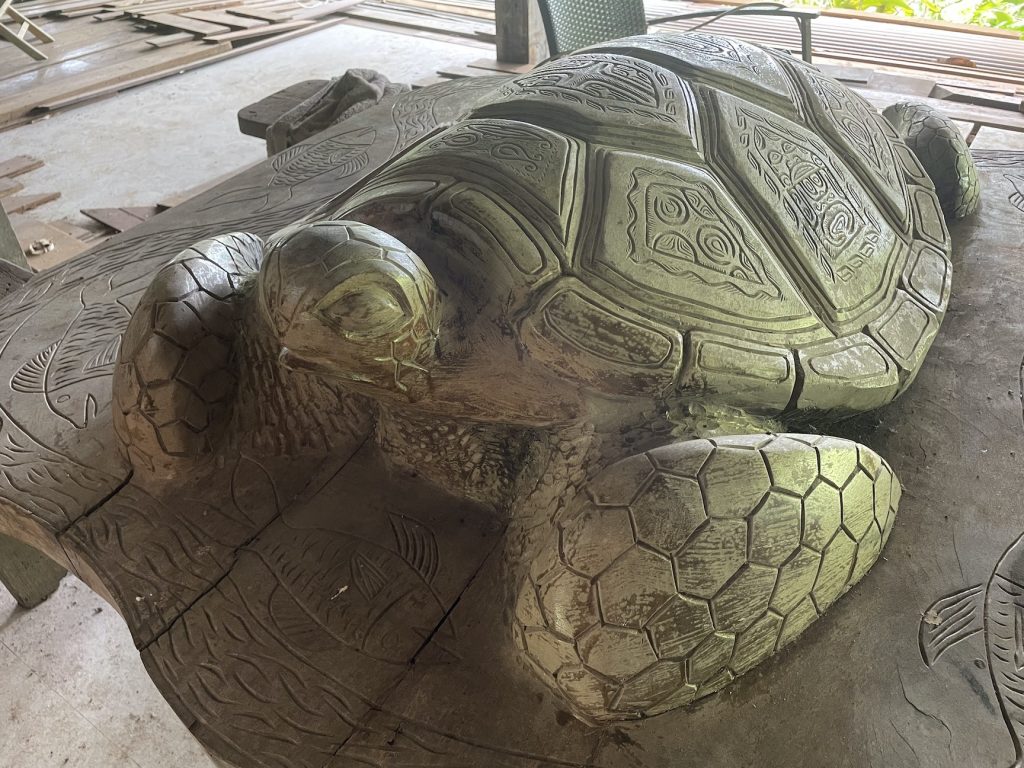 Footnote: Tony is advising on the restoration which is underway and the turtle has been cleaned and looking better and better.

Tony's birthday! The Aranui and Paul Gauguin are both in port. Nir gave a garden tour for us and Corey and Serbina from Canada. Tasted star apple and sapote, smelled tiare and ylang ylang… lots of exotic fruits and woods, many varieties of palms, jack fruit, bread fruit….

Lovely dinner tonight at Le St James restaurant. The salad with hearts of palm for a starter was the only disappointment as the hearts of palm were totally dissimulated. Tony's spiny lobster was a handsome specimen, my mahi-mahi in a coconut crust was tasty. Nir made reservations, securing a sheltered table right on the water, an introduction to Anthony the maitre'd, and a birthday alert, which the restaurant acknowledged with two glasses of Champagne with our crème brûlée and ice creams. We watched the fish and the departure of the Ara Nui with a lovely breeze and perfect temperature.
Thursday a Windstar cruise arrived along with the Andromeda, reportedly with Yuri Milken and Mark Zuckerburg on board. I mistakenly thought there would be crowds of cruisers. In reality, our day of snorkeling at the Lagoonarium was postponed until tomorrow for lack of participation. We wandered the shops of downtown (lots of pearls), listened to a heavy duty Polynesian band greet the cruisers,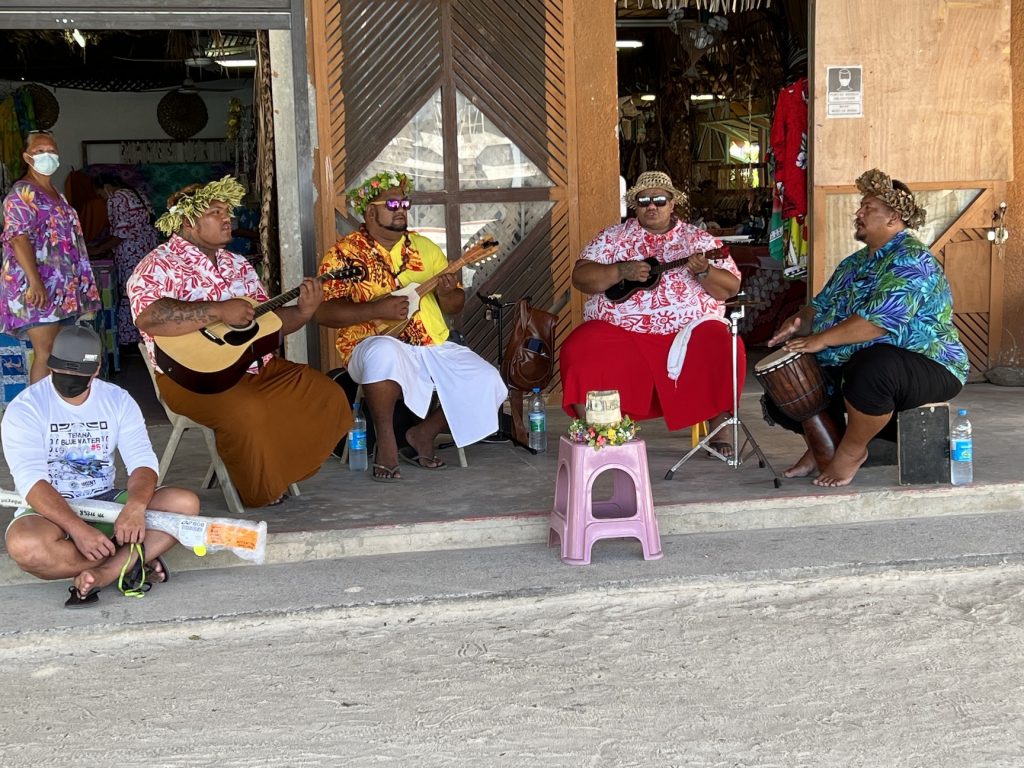 had a snack of fresh squeezed pineapple juices and a croissant in a simple cafe ($29), and watched the trucks unload the cargo boat — piles of goods to stock Chin Lee grocery store and boutique, bags of mail for the post office, etc. Three large city workers climbed onto their JCB with lunch from Chin Lee—sodas, baguettes and spam!

Friday, we were the ones to cancel the lagoon tour as skies changed from grey to downpour, back to grey then thunder. Picnic, anyone?

Nir drove us to the shuttle boat to take us to the airport for our 20 minute flight to Raiatea where Raymond met us with his boat to Fare Pea Iti on Tahaa. Our bungalow is spacious and built in "authentic" Polynesian style, in quotes for the artificial looks-like-thatched-roof and without the beautiful tropical wood that Nir used. The bungalow is a bit of a disappointment as is the water which is murky brown. Two teak trees with huge leaves are growing in our patio. There is mosquito netting surrounding the bed. This has been Camelot where it only rains at night — perfect for breeding mosquitoes. Both Deet wipes and Off spray have only a short effect. I've taken refuge under the mosquito net but find it cuts the breeze.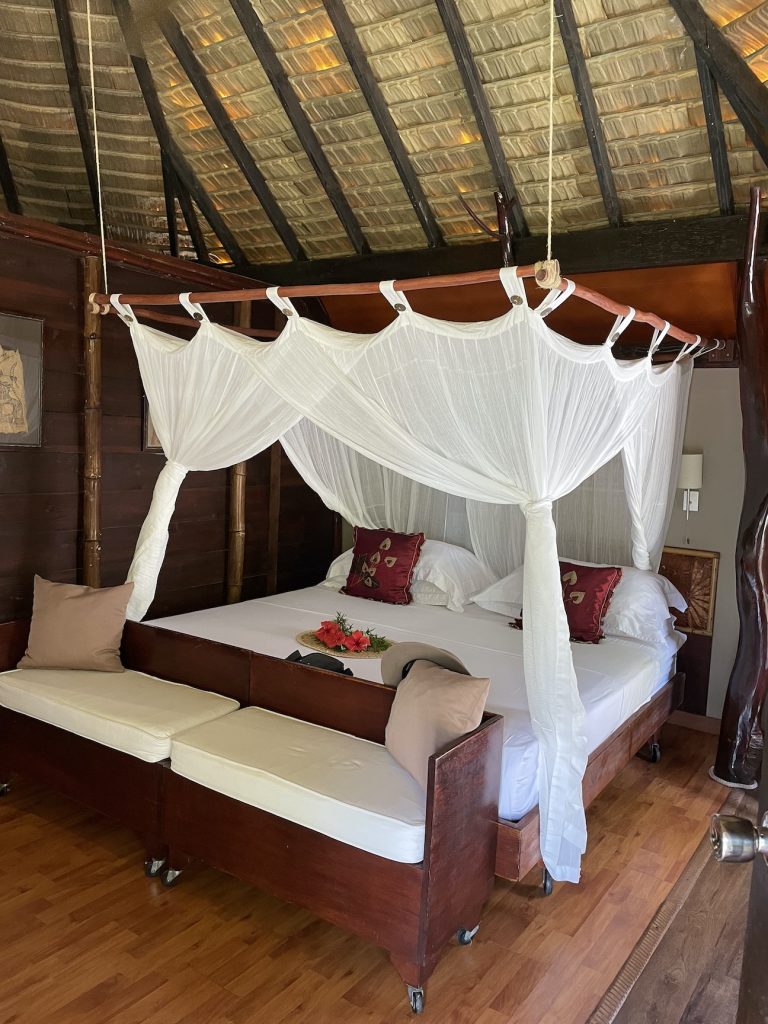 Beautiful weather, blue water, tropical vegetation, damn the mosquitoes! Here we are on a tropical island that grows coconuts and pineapples and has a rum distillery. Worst pina colada ever, kind of a rum float. The Parisian owner is proud to be one of the two best restaurants on the island. We are on half pension (breakfast and dinner) and evidently we eat lunch here too as we have found nowhere else. We are enjoying the local food. Tropical fruit, croissants, yogurt, coffee for breakfast. Tuna carpaccio salad for lunch, tuna for dinner with black and white rice and cauliflower dauphinois, and guess what for dessert? Banana splits! Teah is our chef. She is very sweet inquiring worriedly if we enjoyed each dish, then beaming her smile when we assure her it was delicious.

This is why we came! It's a glorious day and Raymond, the Polynesian Capitaine, took us to a coral garden. The "motus" are little islets scattered around the main island. We anchored near one where a family had built a palm shelter to spend Christmas and New Year. Only a few years ago, the law decreed that the motus could only be owned by Polynesians to prevent exploitation by hotel chains a la Bora Bora. And Raymond was enthused about the good side of Covid — a year's rest without tourists and the coral is recovering! We brought our own masks and snorkels and were loaned fins by the resort — Tony and I and Cedric and Leila from Nantes. Raymond taught us all the security signals, the okay sign, a hand wiggle for halfway good, thumbs up to surface, side of hand on head for shark, sign of the cross for big shark. The plan was to swim out to the reef, then drift back over the coral with the fish. I didn't get far before swimming out of my fins. Oof. Recover fins, find a break in the coral to stand, set off again to catch up, lose fins, repeat. Picture me as a little girl playing grownup in my mother's high heel shoes. Raymond returned to check on me, but it was silly to continue. I told him to go ahead and I would drift back from where I was in a magnificent coral garden of my own. It was fantastic! All sizes and colors of fish— transparent, yellow, electric blue, multi-colored, black and white stripes and polka dots— darting through the diversity of coral — a fantasy from National Geographic.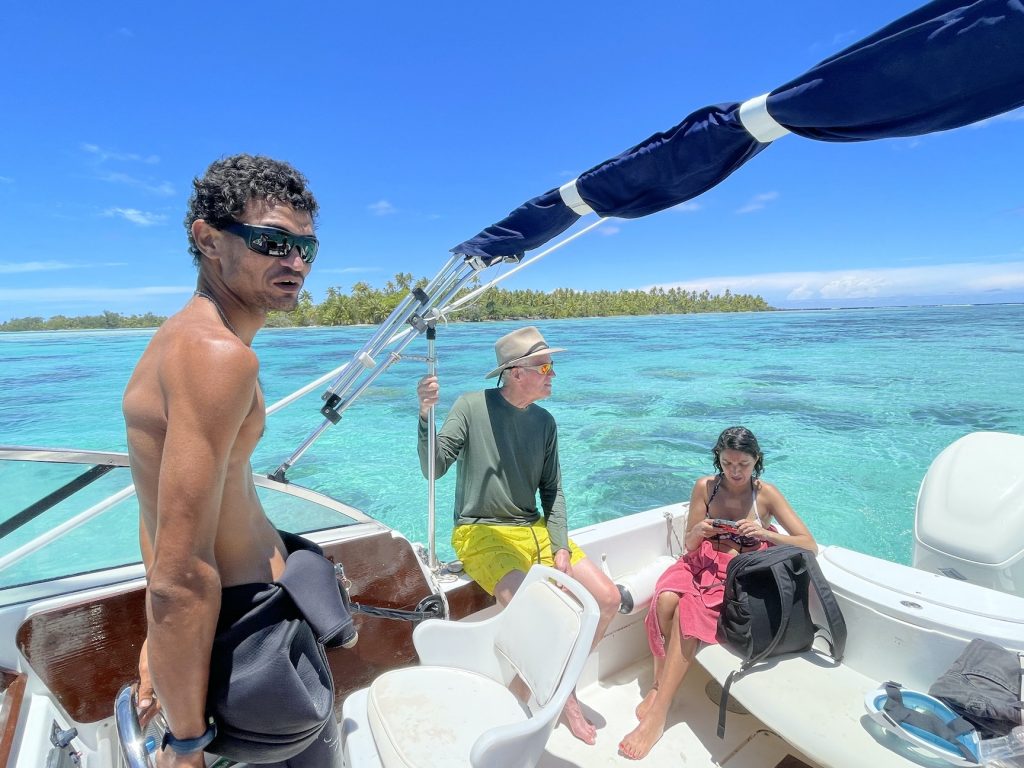 Reunited we motored to the resort's motu. Raymond left us to swim while he fetched our lunch and Tony spent his time gathering a rash shirt full of coconuts and starting to split one on a sharp stick. I took a very long film of his efforts until Raymond returned and showed us all the tricks of the trade. We drank the coconut water, grated the meat on a special blade on a stand, wrung the milk out of the gratings onto our fish, the final squeezes produce the coconut cream. Squeezed limes over all. According to Raymond you can eat the grated meat but it is only good for decoration on cakes not for taste. What a lovely day. All the reasons we travel.
Politics: there is no taxation in French Polynesia (perhaps reparations for atomic testing?) On the other hand there seems to be a desire for independence and resentment at being governed by France in spite of all the obvious benefits of schools, roads, health care… There is a strike about wages of course but also vaccine resistance. There is currently a fine of 1500 euros for unvaccinated persons with contact with the public, yet the vaccination rate is just over 50%. The strike has cut the fine by half. Muslims are not resident. According to Pascal, Muslim women's rights are not compatible with the Polynesian respect for women, particularly old wise women.

Curiosities: Taha'a is one of five islands with enough fresh spring water for its population. BoraBora uses all its spring water plus rainwater plus desalination. Faucets for sinks are often room temperature, neither hot nor cold, with hot water available in the shower. There is no hospital or dentist or garage on the island of Taha'a. Cargo arrives two days a week. Mostly it's DIY with plenty of fruit. Another downside of Covid: our resort needs maintenance. There were no tourists for a year, and no material deliveries. Finally a partial delivery arrived with wood for part of the dock. Pascal plans to close for two weeks now that materials, and tourism, have resumed. However, There are five bungalows and only two are occupied. All food is kept in the refrigerator: sugar, tea bags, coffee, bread…

Monday and it appears that we have a full crew of employees. Vanilla tour today at the Vallee de la Vanille. The plant is an orchid that reproduces easily from cuttings using another tree for support and shade. The vine is pinched regularly to increase foliage and flowering. Three years later it flowers and each flower is hand-pollinated and nine months later each flower produces one bean. The beans are dried slowly in the sun for two hours a day over two months. Each bean is massaged, one pressure up, one pressure down daily for x days. That is why they justify the price of $300 for 500 grams at the source! Denmark is the largest market in the world for vanilla. We bought a small bag of beans which should last indefinitely in a glass jar and a container of vanilla powder for lazy cooks (our lodge uses their powder for crème brûlée, ice cream, cream sauce for fish, etc). Vanilla beans are also recommended (not by me) for flavoring rum, coffee, sugar….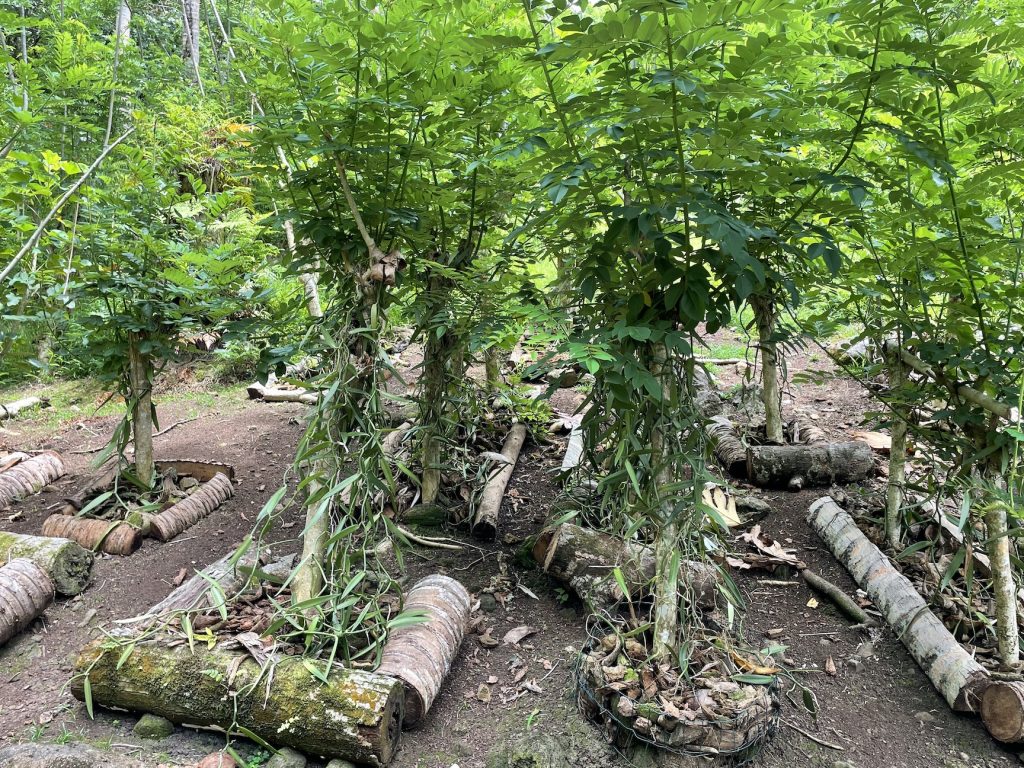 Our guide drives with her left hand at the top of the steering wheel ready to wave a greeting to every single passing car, bicycle, and pedestrian. Life on a small island. This is the most rudimentary island we have visited. Most houses are quite basic, sometimes neat with hedges of hibiscus, sometimes junky with burn piles and old cars. Lots of coconut palms and piles of coconuts for copra. We also visited a wood carver from the Marquesas islands, working mostly with rosewood that his family delivers, one cubic meter box at a time, the maximum the sailboat will accept.

Tuesday we walked into the village of Patio: mayors office, Mormon church, two supermarkets side by side. There is major work going on to improve the port. I'm speculating that it might become capable of docking the smaller cruise ships. Interesting to see how people live. Lots of junk cars so what can you do with one? It must be very expensive to have it hauled off the island.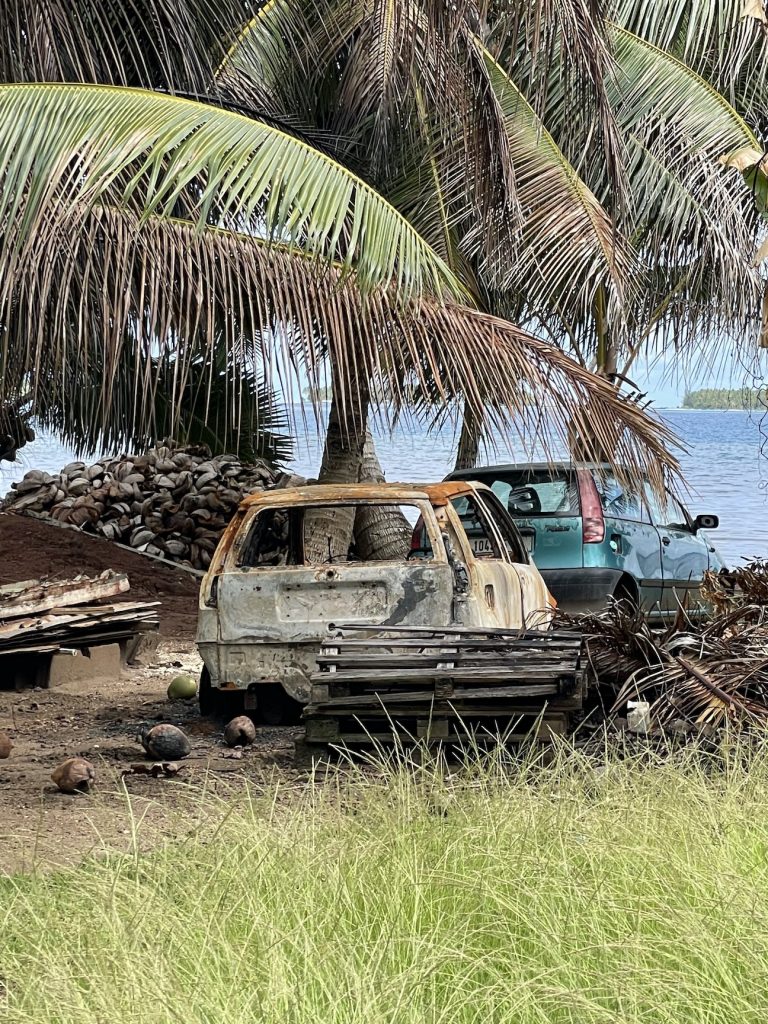 We passed a watermelon stand, saw sweet potatoes and taro in gardens, lots of mangoes starting to ripen, papayas but no pineapple. We walked along the road exchanging waves with each car, and greeting all the bicycles and pedestrians with "Io rana" (aloha).

Back at our lodge the cook is picking up coconuts, tossing one at the bunches of nuts to see if any more are ready to fall, then wheelbarrowing them to a big pile where they will be collected to sell as copra. Tony is doing his research. Copra is combustible and can carry a toxin into the food chain — organic untreated is not safe to use.

Bad news/good news from Pascal this morning. Tomorrow's flight has been canceled. Air Tahiti cannot strike because they are a monopoly, but the firemen are on strike so it wouldn't be safe to fly. This is our least favorite resort. Their beach is murky brown, so if you want to swim or snorkel you must pay them $65 to take you to the motu. We have done all the activities of interest and are ready to leave. Pascal made an effort on our behalf and has found a fisherman who we can pay 25000 pacific francs to take us to Huahine, our next destination.

Our favorite Capitaine Raymond will take us to Raiatea. Along the way he made an abrupt 90 degree turn and cut the motor. Dolphins!!! Our fisherman and his colleague were waiting and we were pleased to find a huge waterproof bag for our luggage and a roof for sun protection.
Beautiful sunny day with smooth turquoise water in the lagoon, then rougher seas beyond in ultramarine. We were slammed by the waves before he moved us to the back. Otherwise, it felt like multiple spinal compression fractures ahead. He put out a fishing line for trawling and told us stories of the biggest fish he ever caught — a five meter long blue marlin that took five hours to land. We offered to help but didn't catch a thing. An hour and a half trip was actually 2 ½ hours of pounding on an uncushioned bench. Tomorrow he is taking passengers to BoraBora which is twice as far. Ouch.

Friendly arrival at the pier of the Lapita Maitai Hotel with gardenia leis. Very attractive hotel and best of all, great pina coladas.

The myna birds breakfast is at the same time as ours. A cat prowls the outdoor restaurant too, but doesn't intimidate the mynas in the least.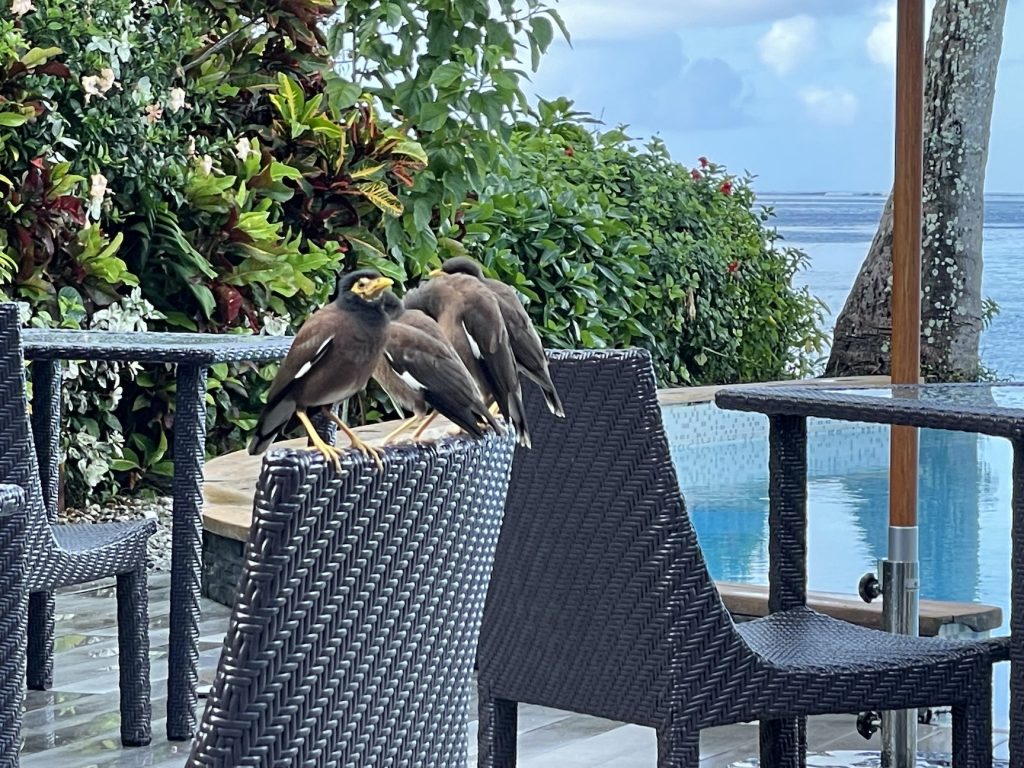 Paradise!?!? It's lovely here, mostly mosquito free, lots of visual appeal, etc. On the other hand, we have chosen an expensive place to read a book. The excursions on offer have become repetitious, as has the food. The fish is delicious for lunch, appetizers, mains…. Perhaps we scheduled too much time, and, there is still the Air Tahiti strike and no alternative for getting back to Papeete. We walked into town, souvenir shops, snack bars, supermarket, pharmacy for band-aids for Tony's fin blistered toes.

Lunch restored my good humor. Tired of fish, I looked at the burger menu and found a black bun burger with duck breast and chutney. Yum!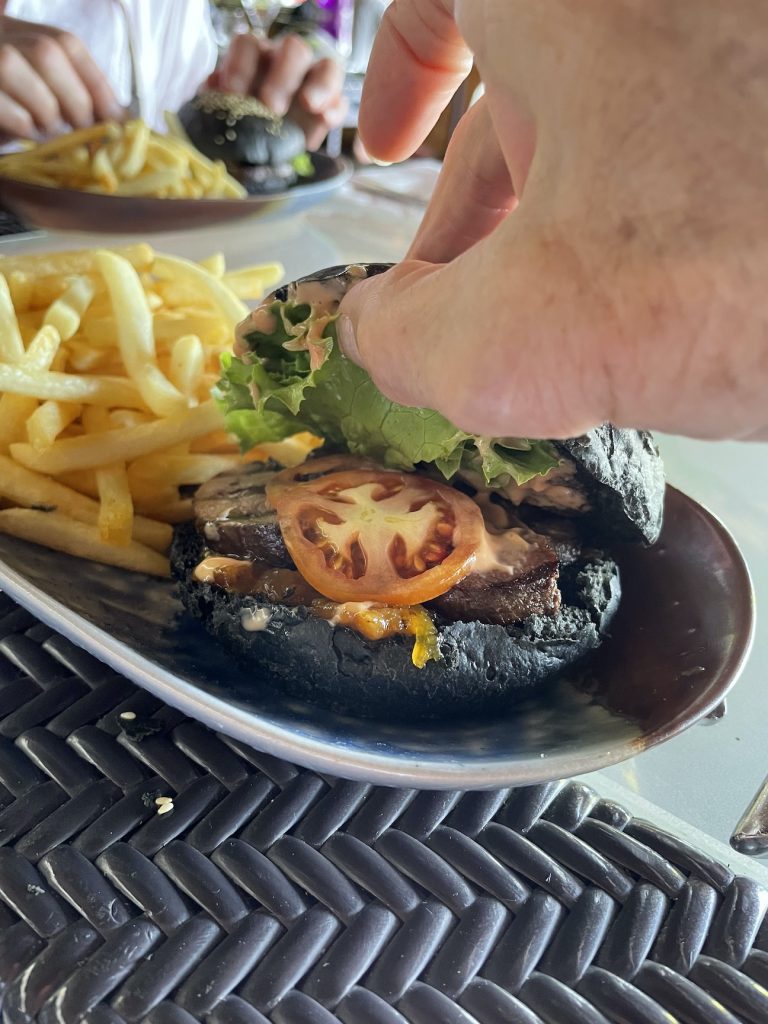 Snorkeled off the beach and spotted lots of tiny electric blue fish, larger yellow ones, black ones, combinations of stripes and spots…

Saturday night in the big city. We went to Happy Hour at the Huahine Yacht Club, a fancy name for a local dive. Prime time for a mostly local crowd. It has been a pleasure to hear Tahitian music everywhere. Watched the sunset over a maitai and beer. Then a plate of curried shrimp and swordfish with vanilla sauce and, o happiness, green beans. Vegetables have not been abundant. Apologies to Fishwatch, but the swordfish was really a treat. And nothing seems to be overfished here. The locals just fish for their own use, not export.
The South Pacific is the ultimate honeymoon destination. All we want to do is lounge around naked although contact with another sticky body is less appealing.

Monday we flew to Papeete and were met by Therese from Fare Suisse. We dropped our bags and headed to the hardware store for pros where Tony was happy to find nearly everything he needed for woodworking supplies to restore the turtle.
Time for lunch, but we were in an industrial area and found nothing appealing until we were back in the neighborhood of the Urban Cafe. While we waited for lunch, Tony went behind the bar to tune up their espresso machine and hey presto, we ended up with a very good caffe latte to finish. P.s., they are looking for a barista.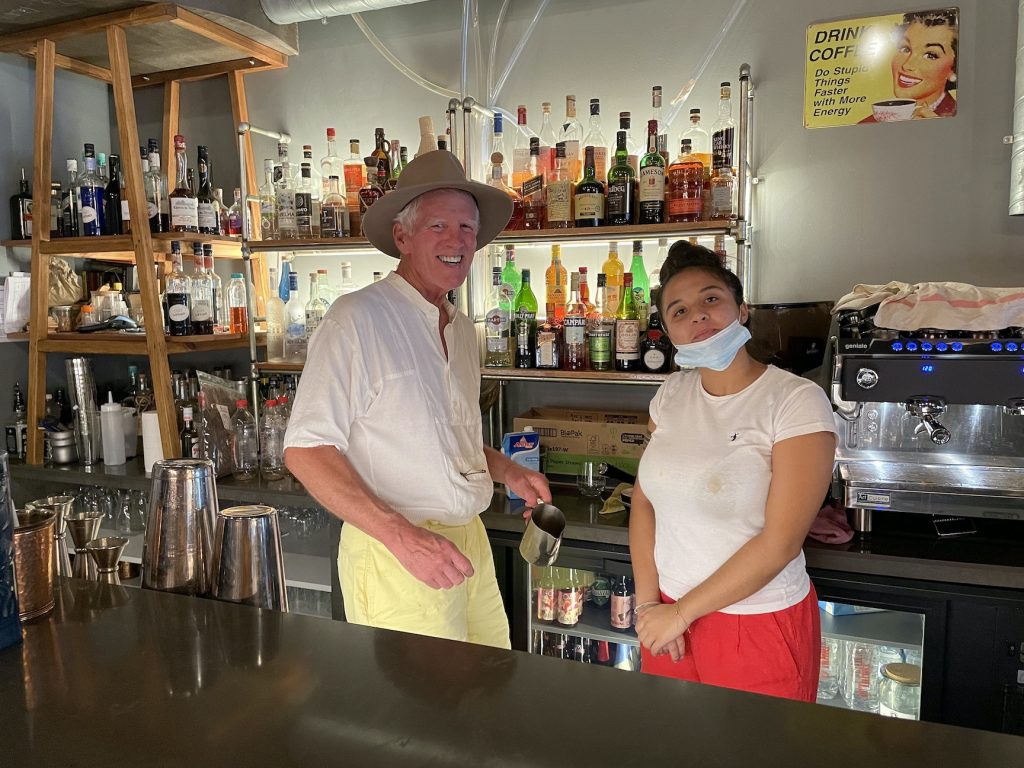 We had barely left when the rain started. First a little, then a lot, then jumping puddles, then a torrent rushing down the driveway to our hotel. Shoes and clothes to try to dry in high humidity.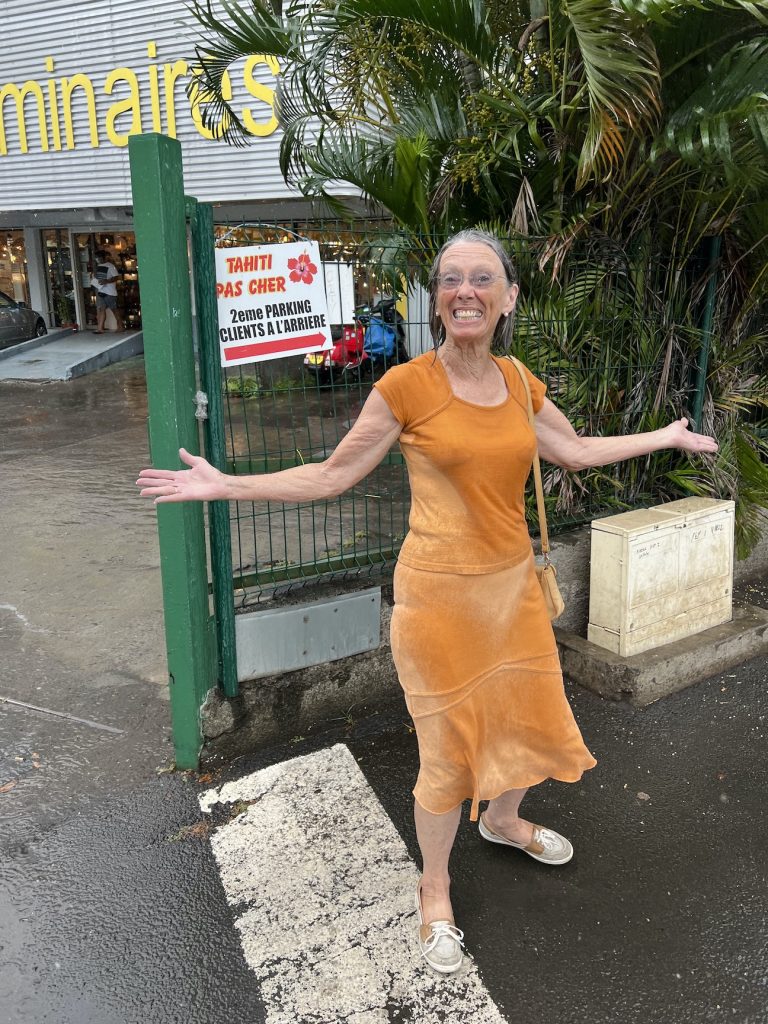 By dinner time the rain had stopped. We went back to the MaruMaru restaurant which we knew was both tasty and close. I repeated my order of shrimp and taro risotto, Tony had a good lagoon fish and three scoops of ice cream that was so good he had to know how they made it. The chef was proud of his PacoJet machine and invited Tony to see it. O happiness! Do I hear jingle bells?

Next day, equipped with umbrellas, we went shopping at Carrefour and Parfum Tiki. Long walk, broken by a stop for a milkshake on the terrace of California Burger. We don't have so many wild chickens in California. Back out to Champion supermarket where we made a lunch of sushi and radishes. Then an excellent dinner at Kozy Restaurant — pretty presentation of tuna carpaccio with twists of cucumber, cherry tomatoes, flower petals, soy sauce under and a touch of mustard sauce with black and white sesames on top. Mahimahi for Tony and pintade for me. Exceptional!

And now it is the first of December. The bamboo tree is decorated and instead of Tahitian music it's Christmas carols with breakfast accompanied by the drum of a rain shower. We canceled our car rental for today, exploring in the rain having lost its appeal. When the sky cleared we went to Pharmacy Paofai where we received negative Covid tests for a bargain $19. Walked around the harbor admiring the yachts of the mega-wealthy and more modest boats that had traveled from France or San Diego, all over the world. Lunch was well timed with poke and smoothies and another brief downpour.

Eat, walk, eat, nap, eat, read, sleep, repeat. We are ready for home.

Dinner at Meherio began with happy hour at the port, pina coladas with a view in a zoomy bar, perfect temperature, light breeze, delicious evening. Then upstairs to the indoor dining room, also zoomy and practically deserted. Tony, always in search of veggies ordered a pumpkin salad for a starter and a Pacific fish salad for his main. The first salad was in an eye-popping 2 foot long dish that fed both of us. His main was in the same kind of platter, but he was on his own while I ate shrimp and scallops on asparagus risotto. So good! The price was the same as little cafes, but the service, presentation, and ambiance were far above normal. We even had a half liter carafe of Viognier wine that was a bargain for Tahiti.

Fare Suisse is the other plus in Papeete. They are so accommodating offering a free shuttle to and from the airport and ferry. Beni bakes three kinds of bread for breakfast plus fruits, yogurt, ham, cheese… and at night he offers pizza or fondue. Hard work all day managing 25 rooms. Flights to the US leave at night and they offer a toilet and shower for those of us hanging out. Recommendable clean, functional place to stay within walking distance of city center.
Tony was sitting on the terrace when he heard a surprised "Hello Tony!" It was Marylin, the owner from Fare Pea Iti on Taha'a who was on her way to Bordeaux for holidays with family. We stayed so long we now recognize people from other islands!
Negative Covid tests from the local pharmacy, and we are headed home.