January 7, 2019: an early morning flight from Sonoma County airport—close by, easy parking, then a wait in Los Angeles for the flight to San Jose Costa Rica. We were an hour late but our shuttle driver was waiting to drive us to the Hotel Grano de Oro a favorite from our last trip. And we arrived before the kitchen closed so we could fill our stomachs with memories—hearts of palm salad, rabbit, tres leches cake.
Next morning we found an ATM, SIM cards and our rental car, and hit the road. Too many people in San Jose live behind barbed wire, most of them looking like they have nothing to steal, but as someone told us along the way "people will steal things just because it's easy".
We drove to Naranjo for a coffee tour, arriving with enough time for lunch before the tour so we decided to walk to town… and back, canceling any calories. Good coffee, interesting tour, but we bailed early to be sure we found our resort before dark. Driving is slow in Costa Rica, hilly windy roads , one lane bridges, lots of trucks, bad drivers either pokey or reckless.
Tony had stayed at Chachagua 20 years ago, turns out it is listed as 1000 places to see before you die.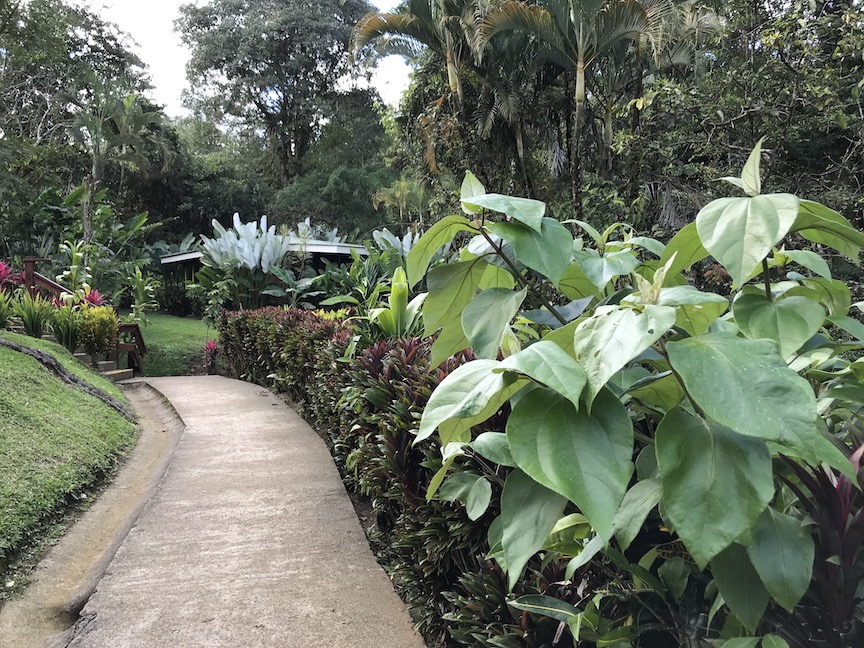 We took a morning hike with Diego, an ace at spotting birds and animals. He demonstrated that termites were good to eat … by eating termites. Ick. Tony also did a night hike with Diego and his 10 year old son who was as sharp-eyed as his father, pointing out 14 kinds of frogs. Another day Diego found us howler monkeys, an iguana and a hummingbird nest. There were five sloths that the guide could recognize by name. Sophia was the most elegant because the guides could catch her and give her a bath. "A rolling stone may gather no moss" but sloths do. They have a whole ecosystem living on their fur. There were toucans and other birds at a feeder by the outdoor restaurant.
We took a day trip to the iguana bridge in Muelle to revisit another memory. Yup still there.
Checked out and headed to Jaco. Although we were retracing our route to Naranjo, Waze routed us on more picturesque roads up to the cloud forest and through spectacular hilly agricultural land. It must be Costa Rica's produce belt, very prosperous. The highway to Jaco was much like going to Santa Cruz on a holiday weekend. Where the traffic slowed there were fishermen beside the road holding big fish for sale. Jaco was cheek to jowl with tacky souvenir shops, fast food, hotels, graffiti, prostitutes, weedy vacant lots — hundreds of ways to wreck a nice beach. Okay my good humor was restored by the best.pina-colada. ever. In a fresh pineapple shell with a hibiscus!
We dropped off our rental car and next morning a van picked us up for the taxi boat to the Nicoya peninsula avoiding a car ferry and hours of dusty road. Surprise! No pier. Fit young men carried our luggage on their shoulders as we waded through the surf. We stopped once to negotiate through a long line fishing line which extended for a mile or more. Then we slowed again to enjoy the dolphins surfing in the wake of the boat!
Ylang Ylang was another repeat, as beautiful as we remembered. A troop of capuchin monkeys entertained us outside our room along with a wedding on the beach.
There is always lots of tropical fruit and salads, but this resort has some lighter alternatives to the typical rice, beans, meat 3x a day. Our tummies are ready for a break.
There is a sea turtle reserve on the beach. Volunteers gather the eggs and place them in an enclosure so they aren't stepped on. When they hatch, they set them out on the sand for their walk to the sea. Too bad we were never there on the right day.
Our last morning at Ylang Ylang, a howler monkey was calling his tribe together. What fun to watch them assemble and listen to their howls on our way to breakfast. We said our goodbyes to John and Gillian with whom we shared a table for the last three nights. Gillian is in charge of the Global Government to Save the World, tbd. She has our vote.
We gathered at the beach for the water taxi. Unlike our arrival they put our suitcases into plastic bags. Ah ha, we are taking two small boats instead of the large one. Now that we are experienced travelers and since our names were first on the list, we cleverly grabbed two seats in the back on the shady side under the fly. Off we go with two 200hp Suzuki outboards. Ahh, we chose the wettest seats! I used Tony for a windshield, but he was soaked with salt spray. One woman lost her hat that the captain recovered with a quick u turn. Then he stowed all our backpacks and bags in a dry compartment for us. With our cameras safely stowed, we paused to watch a pod of pilot whales frolic, hump, and feed.
We picked up another rental car a complementary upgrade to a RAV4, less rattling than the Ford eco sport. Unfortunately, we didn't question whether it was 4WD. Spoiler alert: it wasn't. After an exceptional tuna poke lunch, we were back on the route to the wilds of the Osa peninsula. Plantations producing palm oil make us worry about its future.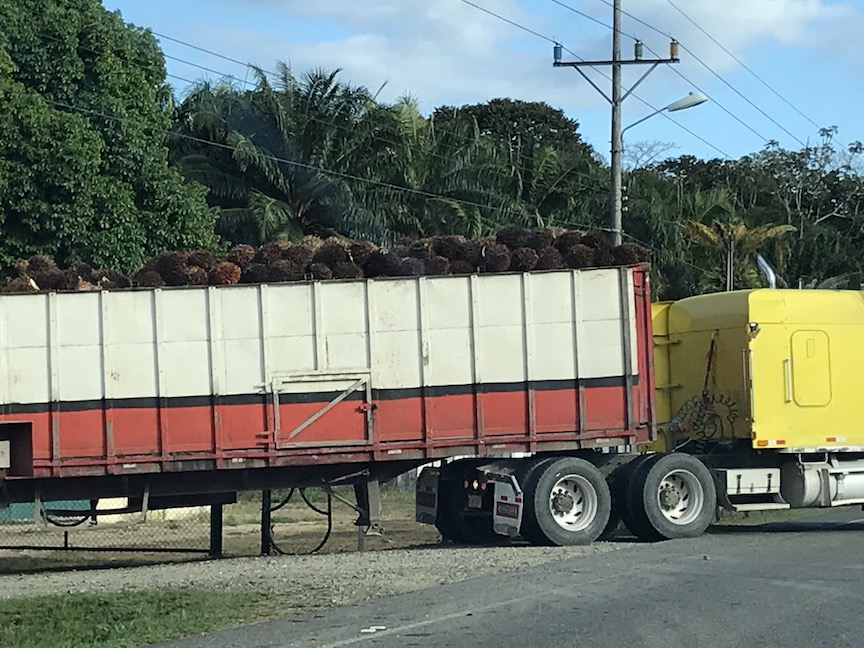 We were watching the clock wanting to arrive before dark. GPS announced "you have arrived at your destination " out in the middle of nowhere. Checking with boys along the road, they gestured to keep going. Sure enough we had to cross a couple more narrow one lane bridges with no guardrails and drops into an abyss and ford the two streams that were mentioned in our emails. Did I say we didn't have 4WD? Nevertheless, we were safely arrived at Lapa Rios before dark.
We entered the eco-resort through a big open air dining room/bar/reception with a central spiral staircase up to a viewing tower.
From there, down a long steep trail with lots and lots of stairs to our room which was rustic/modern, spacious, with a mosquito netted king bed, indoor/outdoor showers, ocean view deck with lounges and a hammock. The wall and wing walls closest to the trail were solid stucco for privacy. The other walls had low bamboo wainscoting with screens to ceiling height. Although it is described as a thatched roof, the material is actually synthetic. Natural materials deteriorate fast in the rain forest. Even the newer walkways are Trex for practicality. The mosquito netted bed seems more decorative than necessary as there have been very few insects.
Dinner was good but quite ordinary.
5:01am: We woke up laughing at the jungle sounds with lots of howler monkeys, then bird calls. Up and out, ignoring our thermos of morning coffee which was already delivered, we climbed the stairs toward reception, stopped at a seating area, and OMG! scarlet macaws! That is our reason for being at Lapa Rios which literally translates as a river of scarlet macaws. We were determined to find them in the wild and this lodge was a big splurge to insure that it happened. One pair was feeding in a tree, another did a fly-by for us, several more pairs flew by. We ate breakfast on the terrace watching macaws and green parrots. Heading back towards our room after breakfast, we heard a squawk, and stopped under an almond tree where at least three macaws were feeding and dropping shells on us. Up close. Bird watching is easy when they are large, brightly colored and noisy!
I washed out our lightweight salt encrusted clothes and their dampness hadn't changed overnight. Is it possible to dry clothes in the rain forest? Yes, one hour of sunshine and all was dry. Temperature around 90 degrees today with a gentle breeze; night temp 75 with a breeze plus ceiling fans (no a/c). Our drinking glasses condense a surprising amount of water. Every meal of the trip has been open air. We are so close to the equator that there is no provision for enclosed shelters.
Tony went on the night hike — frogs, toads, insects, a sleeping tanager, a sleeping iguana … ho hum.
5:24am day two: we are overlooking the Golfo Dulce which is actually a tropical fjord backed by an amphitheater of jungle. The monkey chorus starts at dawn so we can enjoy the sunrise as the birds wake up. We saw a spider monkey as well as the howlers, a squirrel monkey, and capuchins so we have now seen all four species in the country.
Later, at the beach, we watched the brown pelicans feeding, surfing the waves, and practicing their touch-and-goes. They are capable of graceful water landings unless they grab a fish and land arse over teakettle.
On the way back to our bungalow from dinner, I counted the stair steps: 219. We saw spiders, frogs, and a vine snake. (Don't use the handrails without looking for snakes, spiders, insects, monkey poo, etc .) When we arrived at our room, we discovered that housekeeping had locked us out. No phone service here. Tony hiked back to reception and on his return, he met a guide who alerted him to a coiled fer-de-lance poisonous snake. Tony came back for his camera and hiked the trail again for a photo. (55 floors climbed working off his beans and rice.) Actually dinner was a bbq on the terrace with ceviche and salads, grilled mahi-mahi, chicken, or beef.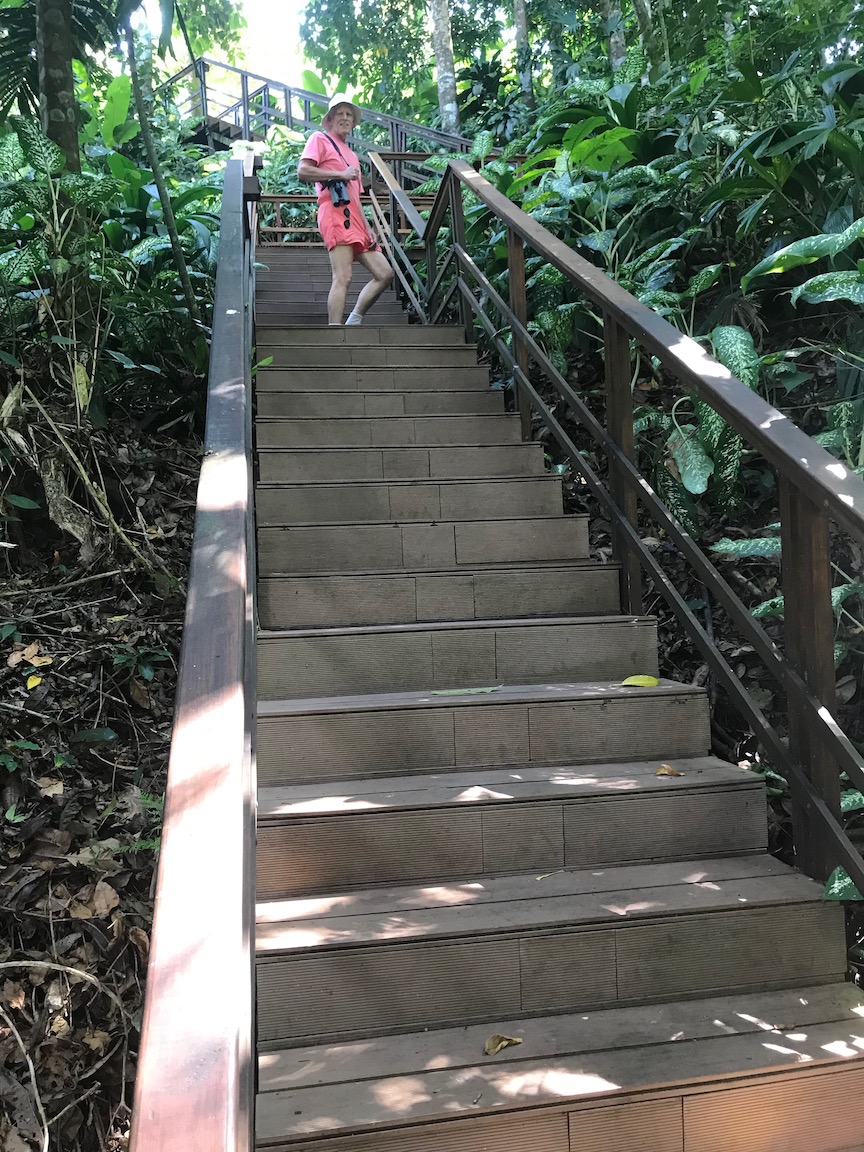 Day three: a windy morning and a glorious sunrise. We were up and out for the early bird tour: macaws, toucans, parrots, parakeets, vultures, fregate birds, herons, snowy egrets, ibis, tanagers, woodpeckers, hummingbirds, and a blue morpho butterfly, all before breakfast. This is one of the last primary forests left in Costa Rica. The guide told us that when he was a child, he would capture parakeets for his pets from their nests inside termite mounds. That is now forbidden although his children are intrigued by the possibilities. Our guide also gave us a demonstration of the tattoo fern. Along with the spores underneath is a waxy substance, if you place the fern on a dark surface and give it a slap, a silvery image of the fern is left.
We asked a workman if he knew the name of the skinny snake we had seen. No, but he knew the boa constrictor that had just been spotted — about 3 meters long and the diameter of a football. Tony rushed off to find it; I opted for hammock time. What a sloth! When Tony found the guide he was starting a medicinal plant tour, so Tony joined it. Hmmm, he left to find a boa constrictor and didn't return. What, me worry?
At dinner, reception approached us to verify that we were leaving in the morning. "The only problem is that we noticed you have a flat tire. Shall we change it for you?" Yes please.
Off to the cloud forest, we wound and climbed and reached 10000 feet. What a diverse country. Then we turned off toward our hotel, missing it the first time, not believing the narrow dirt track was our road. Tony is a good driver, but I was quite terrified by the drop offs especially when we would cross patches of road that had broken away. It was nine long kilometers to San Gerardo de Dota where there was quite a large group of resorts along a babbling trout stream once we arrived at Hotel Savegre. All meals were buffets, a bit disappointing. We hiked for awhile along a 4wd track that was uninspiring. We had drinks in the bar that looked like a ski resort with fireplace and bundled up guests, then dinner and back to our room to build a fire of our own, poking our heads outdoors to see the lunar eclipse. Early the next morning we failed to see the areas main attraction, the elusive Resplendent Quetzal.
We drove back to the Grano de Oro Hotel in the capital city of San Jose, dropped off the car, and went in search of a chocolate shop. The neighborhoods were all a bit dodgy and when we arrived at our destination, there was no chocolate shop to be found. Costa Rica is an enigma, professing to be green and ecologically minded, and then we pass a stream strewn with garbage and debris and stinking of sewage. Sometimes it is paradise; sometimes not.