We wanted to include some boulders in our landscape. Our local stone is brown. It's sedimentary. It's dull. We visited the local rock and gravel suppliers without finding anything of interest. Tony knew where there was granite that was suitable, but it was all in regions currently covered with snow.
Coincidentally, we were invited to a reunion of cruisemates in southern California. Since we were in the area, we visited Huntington Gardens. The gardens are stunning, and you would be excused for thinking we were interested in the plants. What was our reaction? Nice rocks!
Back home, Tony started phoning for information, looking for granite, learning that the rocks we liked were Gneiss, pronounced "nice", which made for interesting telephone conversations. (A bit like revealing the location of your favorite fishing hole, there is a big secret regarding the source of rocks.) Eventually, he tracked the rocks at Huntington to a quarry in southern California. We headed south again. And found the objects of our desire at Southwest Boulder.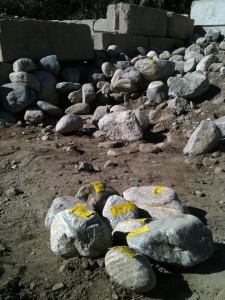 On the drive home, my cell phone rang. It was the shipper asking if he could deliver our shipment next morning. No! We weren't home yet and we needed to rent a forklift! Give us 24 hours.
Two days later:
One might think that would take care of our rock lust. It was only when summer found us enjoying the beauty of Lake Superior that we were struck again by rock fever.
We already knew that shipping was an option.
And soon they arrived at their destination.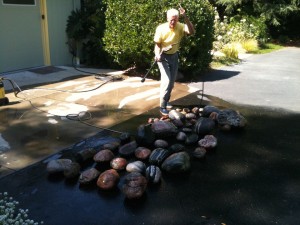 Little by little, our boulders are settling into the landscape.